Fairplay Fantasy Sports
We present you with a one-of-a-kind fantasy game and a sports betting platform. This is a unique opportunity to live a match together with the players and even create your team. Each user receives a gorgeous welcome 100% bonus on the first deposit. Our brand is reliable and safe for every Indian player, which is confirmed by the license of the Curacao Gaming Commission. Bet interesting together with Fairplay Fantacy!
What Is Fairplay Fantasy Sports?
Our portal is the best in India. We provide unique betting opportunities for sports such as cricket, football, and tennis. Only on our website, you will be able to take a fresh look at the world of betting. Below you can read how to do it.
Getting Started
To get started, you need to choose a sport and a match from those offered on the website or in the app. Then create your own team, which should consist of 11 players. To start winning on this website, you need to join the contest. And then just follow the match and the game of your team and withdraw your winnings!
Creating a Team
So, after choosing a match, you need to create a team. To do this, you have a budget of 100 credits, so the process will be as simple as possible. However, there are some requirements for the composition of the team that must be met. These include 3 batsmen, 3 bowlers, and 1 all-rounder. At this stage, you also need to choose the captain and vice-captain of the team, which will bring you 2x and 1.5x points, respectively.
Managing a Team
The most important thing you should remember is the presence of a timer. You need to keep an eye on it and stick to it. Because as soon as the timer is 0, you will not be able to make any changes to the composition of your team.
Managing your Account
After registering on the site, you can deposit money, view the balance, and withdraw the funds won. Your balance is divided into three sections, including the deposit amount, the bonus amount, and the withdrawal balance. The funds that are located in the bonus section cannot be withdrawn. You can also view all the transactions you have made.
Why Fairplay Fantasy?
We care about safety, comfort, and fair play for each of our users. Thanks to this, all your financial transactions and data will be protected. We offer the best innovative betting opportunities on the most popular sports in India. You won't find this anywhere else, which is why you should choose Fantasy Fairplay club.
Fairplay Fantasy Website Interface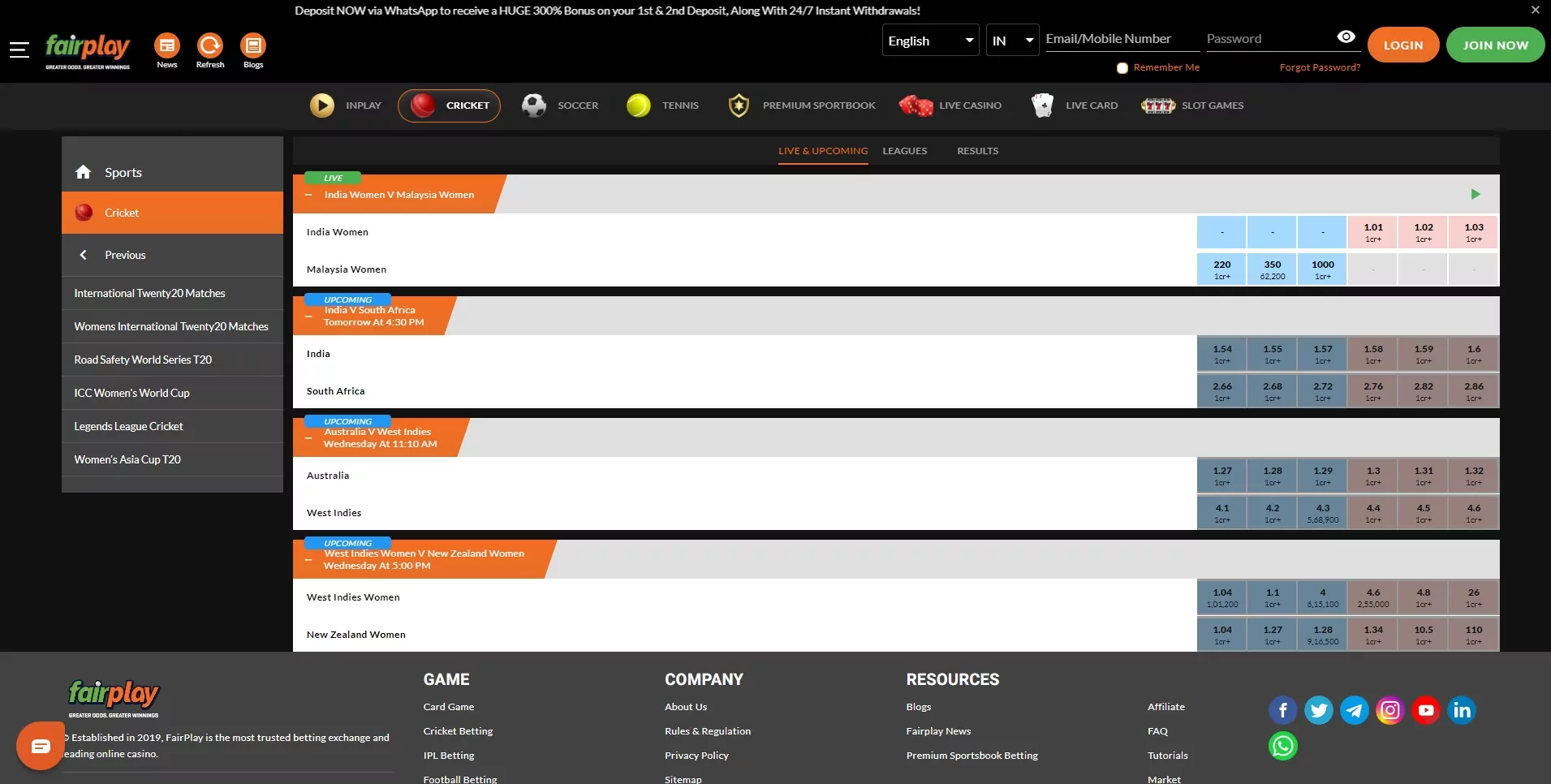 The site is decorated modernly in darkened tones, which allows our customers to stay in the game for a long time. However, more importantly, the site has fairly simple and convenient navigation. In the side menu, you can find all the information about our company, Privacy Policy, Terms, and Conditions, etc. All sports are presented on the main page, and for each of them, there are requirements for betting, game, and team composition. At the very bottom of the site, you will find ways to contact the support service and links to our brand on social networks.
Cricket
Cricket is rightfully considered the most popular betting sport among Indian users. Therefore, we offer you the opportunity to create your cricket team and place bets online. Below you will find the steps for betting on cricket in Fairplay Fantasy.
Creating Your Team
The team you created should have 11 players. As already mentioned, you have to choose a captain and a vice-captain who will bring you more points than the rest of the players. You can choose a maximum of 7 players from one team. On the website, you can find more detailed requirements for the composition of the team.
Fantasy Point System
We have our scoring system for winning different players at different tournaments, including the following:
T20;
ODI;
T10;
The Hundred, and others.
Other Important Points
You can recruit a team of more than 11 players for any test cricket match. You can also replace a player if for some reason he was unable to play. Then you will get points for playing a substitute. You are also not awarded points during the Super-Five or Super-Over.
Fantasy Pro and Win
You have the opportunity to register on our Fantasy Pro portal and get a chance for a trial match without any investments and losses. In this format, you get 100,000 virtual coins that have no financial value. You can also win only virtual moments. This program is designed so that customers can understand the betting system and games in Fairplay Fantacy and easily start playing for real money.
Football
Football is not much inferior to cricket in popularity, so we could not ignore this sport either. Be sure that only on our platform you will get the best experience of betting on football in a live format.
Fantasy Pro and Win
To bet on football and create your football teams, you need to register on the Fantasy Pro portal. You have virtual coins for training, after which you can start playing for real money. Your team will be shown on the leaderboard, its position will change after each match played.
Tennis
Tennis is among the top most popular sports for betting all over the world. Therefore, on our platform, you will find many opportunities to bet on tennis while getting the thrill of a real game.
Fantasy Pro and Win
Just like for football, for tennis betting, you need to connect to the Fantasy Pro program. You will have the opportunity to create a test team for virtual coins and play a match without any losses. Then you can safely start playing for real money!
How to Register into Fairplay Fantasy?
In order to get access to such unique features, you need to create an account, that is, register. This is a fairly easy process that will not take you much time. To register for Fairplay Fantsy, you need to follow these steps:
1
Go to the official website of the bookmaker using any browser convenient for you;
2
Click on the orange "Sign Up" button in the upper right corner;
3
Come up with a username for your account;
4
Enter your current email;
5
Enter your current phone number in the appropriate cell;
6
Come up with a strong password and enter it in an empty field;
7
Click on the "Sign Up" button;
8
A message with a confirmation code will be sent to your number, enter it in the required field;
9
After that, the registration will be completed.
You can also register via your Facebook account, then the process will be faster. And in the following times, you will be able to log in to your account using this social network.
Fairplay Fantasy Account verification
Verification is a mandatory process for all users. Your data will remain confidential, and we will be able to provide all customers with equal opportunities and save them from possible problems. Only after verification will you be able to play for real money and withdraw winnings to your bank account. To do this, you need to follow these steps:
Go to your profile menu;
Go to the section "KYC verification";
Upload a photo of the identity document and a bank account;
Wait for the confirmation of your documents, they will be sent to you by email;
Immediately after that, you can start the game!
Payment options for players from India

We support only time-tested and reliable payment systems, which at the same time will be comfortable for our users. We also guarantee 100% security of all your financial transactions, so you can make deposits and win on Fairplay Fantsy without a doubt! Below you will find a table with basic information about payment methods.
| Payment Method | Min Deposit, Indian Rupees | Min Withdrawal, Indian Rupees | Deposit Time | Withdrawal Time |
| --- | --- | --- | --- | --- |
| PayTM | 200 | 1,000 | 1h | 12h |
| PhonePe | 200 | 1,000 | 1h | 12h |
| G-Pay | 200 | 1,000 | 1h | 12h |
| UPI | 200 | 1,000 | 1h | 12h |
| Bank Transfer | 200 | 1,000 | 1h | 12h |
Deposit Methods
You can choose any of the methods presented on the website for making a deposit. To make a deposit, you need to log in to your account, go to the Wallets section, choose a payment method, write the desired amount, and confirm the transaction.
Withdrawal Methods
The same payment systems are available for the withdrawal of funds as for deposits. All of them are certified and reliable, which is why Fairplay Fantacy supports them. The withdrawal time also depends on the payment method you choose.
How to Place a Bet at Fairplay Fantasy?
To place a bet on our platform, use the instructions below.
Log in to your account;
Make a deposit;
Choose the desired sport;
Select the match or tournament you want to play in;
Create your team according to the requirements specified on the website;
Select the coefficient and enter the amount of your bet;
Follow the match online;
Win together with Fairplay Fantasy!
Fairplay Mobile App

For the greater comfort of our users, we have developed the Fairplay Fantasy app, available on both iOS and Android devices. In the application, you get exactly the same features as on the website. Therefore, if you don't have time to sit at your laptop, then you can always place bets from your phone.
App for Android devices
To download the Fairplay Fantasy apk to your Android device, follow these steps:
Make sure your internet connection is stable;
Visit the official Fairplay Fantasy website;
Go to the app download section;
Select your device type;
Click on the button to download the Fairplay Fantasy apk;
Go to the downloads folder of your smartphone and start installing the application;
As soon as you see that this process is completed, you can start registering in the application.
System Requirements
Any user can download the application to their device. However, for good performance, your smartphone must meet the requirements set out in the table below:
| System Requirements | Device Capability |
| --- | --- |
| Processor | 1.1 GHz |
| RAM | 1 GB |
| OS Version | 5.0 + |
| Memory Space | 35 MB |
App for iPhone and iPad
If you are using an iOS device, then follow these steps to download the apk for the Fairplay Fantasy app:
Through the Safari browser, go to the official mobile version of our website;
In the section for downloading the application, select the iOS device;
Wait for the app to download and start playing!
System Requirements
Just like for Android devices, there are system requirements for iOS devices that must be met for the fast and high-quality operation of the application. They are listed in the table below.
| System Requirements | Device Capability |
| --- | --- |
| Processor | 1.1 GHz |
| RAM | 1 GB |
| OS Version | 8.0 + |
| Memory Space | 35 MB |
Fairplay Fantasy License and regulation
Our brand operates per the provisions of the Curacao license issued to us, which is the dominant one in the betting world in India. Therefore, it is safe for all Indian users to use our services. All services are regulated by annual international checks for compliance with gambling market standards. We provide unique and equal opportunities for each user. Therefore, feel free to register for Fairplay Fantasy right now and get only the best offers in the betting world!
Is Fairplay Fantasy Legal in India?
Undoubtedly! As already noted, the brand is licensed by Curacao. Moreover, all the services provided by us are carefully designed and controlled by the relevant laws.
Fairplay Fantasy Support
The Fairplay Fantasy User Support service is a team of experts whom you can contact on any issue of interest to you at any time of the day or night. Be sure that you will receive a specific and prompt response. To contact them, click on the "Contact us" button on the main page of the site, fill out the form, state your problem, and wait for an answer!
FAQ
How do Fantasy sports work?

Our brand is unique in that you can create your team for a match and then follow the match in real-time. And also make bets and earn real money on it.
Can I win real money on Fantasy?

Of course! You can take part in any of the money contests presented on the site and earn real money from it.
Is it safe to add money to Fantasy?

Undoubtedly! We use a modern SSL encryption system to protect your financial transactions. You can replenish your wallet and withdraw the funds you have won from there.
How to Play On the Fantasy App?

To get started, you need to download the application and register in it. And then you can join any of the contests offered in the application.
How do I register?

On the main page of the site, click on the "Sign Up" button, and fill in all the necessary data. Then go through the verification code, and your account will be created.
Is Fantasy secure?

Fairplay Fantasy is a secure platform. We adhere to the rules of fair play, as well as a strict policy of protecting all data and the rights of our players.
What is my personal information used for?

First of all, your data is used to create an account with which you can play and earn. However, this is also done to ensure equal opportunities for all users, fraud prevention, and your safety.